APPOINTMENT OF SURV. OLAYINKA DUPE NIHINLOLA, PHD AS THE RECTOR, FEDERAL SCHOOL OF SURVEYING, OYO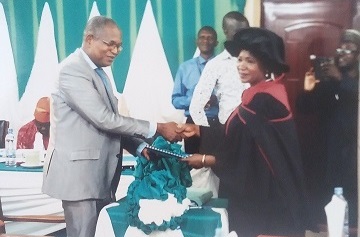 Handing Over
Surv. Omilabu Former Ag. Rector
handing over to the new
Rector Surv. Dr. Olayinla
The Honourable Minister of Power, Works and Housing and the Visitor to the School, Mr. Babatunde Fashola SAN has ratified the appointment of SURV. DUPE NIHINLOLA OLAYINKA, PHD as the RECTOR, Federal School of Surveying, Oyo with effect from 3rd December, 2018. Until her new appointment, Surv. Olayinka Dupe Nihinlola PhD, was the employment University of Lagos as a Senior Lecturer and also University of Ilorin, Kwara State as an Adjunct Associate Professor.
The new Rector obtained a Higher National Diploma in Land Surveying with Distinction from this prestigious Institution, the federal School of Surveying, Oyo IN 1995. Surv. Olayinka, Nihinlola PhD, is a graduate of surveying Engineering with First class Honours Degree from the University of Lagos in the year 1998. She also has a Masters of Science Degree in Surveying and Geo-informatics with Distinction from same University in the year 2001. The new Rector was the first Nigerian to be awarded Schlumberger Foundation Scholarship for a Doctor of Philosophy (PhD) Degree in Lancaster University, Lancaster in united Kingdom where she bagged her Doctorate Degree in year 2010.
Surv. Olayinka Nihinlola who was employed into the service of University of Lagos in year 2001 as a Research /Graduate Assistance in the Department of Surveying and Geo-informatics has held various academic and administrative positions while in the service of the Institution. She was fully involved in Researches, Lecturing and Administrative roles both at Departmental, Faculty and University levels. She has a lot of publications, Journals and Academic exhibitions to her credit.
The new Rector has her professional qualification in 2003 (surveyors Registration Council of Nigeria No. 1340) and she become a Full Member of Nigeria Institution of Surveyors in year 2006. She also obtained a Certificate of Enterprise and Commercial Awareness (CCACA) in 2007 from Lancaster University, United Kingdom.
Professionally, Surv. Olayinka Nihilola had served as Chairman, Secretary and Member of many Committees of Nigeria Institution of Surveyors (NIS) at both state and National levels and also has served the Surveyors Registration Council of Nigeria (SURCON) as Examiner. She is presently the Internal Auditor of Lagos Branch of Nigeria Institution of Surveyors.
The New Rector who is now the chief accounting officer of the School is well traveled, very versed and well experienced in Academic Administration and Personnel matters.
DR OLAYINKA, Dupe Nihinlola, who is an old girl of Bode Thomas Memorial Secondary School, Alaafin High School and Olivet Baptist High School, Oyo hails from Agunpopo Area of the ancient Oyo Town and she is happily married and blessed with children. The new Rector had since assumed duty.
All staff and student are hereby enjoined to give full cooperation to the rector for the overall benefits of the School.